INTERVIEW WITH AUTHOR DEANNE ADAMS
The Heretic's Servant
What inspired you to write the book?
The idea first came to me when I started reading about priest holes on the internet. I've always been intrigued by the Tudor era, though.
Can you tell me more about your book?
My novel is quite a dark tale – though with some lighter elements to it – narrated by a maid called Molly. She's very close to the family she works for and would do anything to protect them.
What did you learn when writing the book?
I learned how relationships between those who served and those who were served in Tudor times were possibly rather different from how we might imagine them. We tend to think of servants in Georgian or Victorian terms, when they really were seen and not heard, as if they were pieces of furniture. Tudor servants didn't have a free voice, of course, but it seems likely that there wasn't the formality which developed later.
Which of the characters in your book do you relate to the most?
Molly, the narrator, probably because I wrote the book in first person. A bit of my own voice came across in the character.
What scenes were the hardest for you to write?
It was hard to write unpleasant things happening to characters who didn't deserve to have them happen. I had to remind myself that it was all just make believe.
How long did it take you to write the first draft?
About a year, mainly because I changed my mind about the direction it was heading in after the first 15,000 words!
What was one of the surprising things that you learned in creating your book?
I was very surprised at some of the aspects of the justice system that I discovered… especially some of the punishments used and what was considered criminal behaviour.
Were any of the characters inspired by a real person?
All my characters are fictional – unlike a lot of historical fiction, I'm not writing about the famous kings and queens of the Tudor era. I wanted to write a story about an ordinary character and think about what happens in her life as a result of the big events of the Tudor era.
Where do you get your information / ideas from for this book?
A lot of it is from a long-term interest in history and the Tudor era in particular. When I need to fact-check something, I have plenty of books on the subject… and there's always good old Wikipedia! In terms of my ideas, they grew bit by bit. It was a case of asking why? how? and what if?
Which parts of the book did you enjoy writing the most?
I most enjoyed writing the scenes with the characters of Lord and Lady Sherbourne. He is an older gentleman with a fondness for good meals and his wife is a stern woman who enjoys criticising others. In an age when it was unacceptable to criticise her husband, she criticises everybody else instead. They were great to write.
Who will enjoy reading your new book?
People who enjoy a thriller or drama, especially with a historical setting and a quick pace.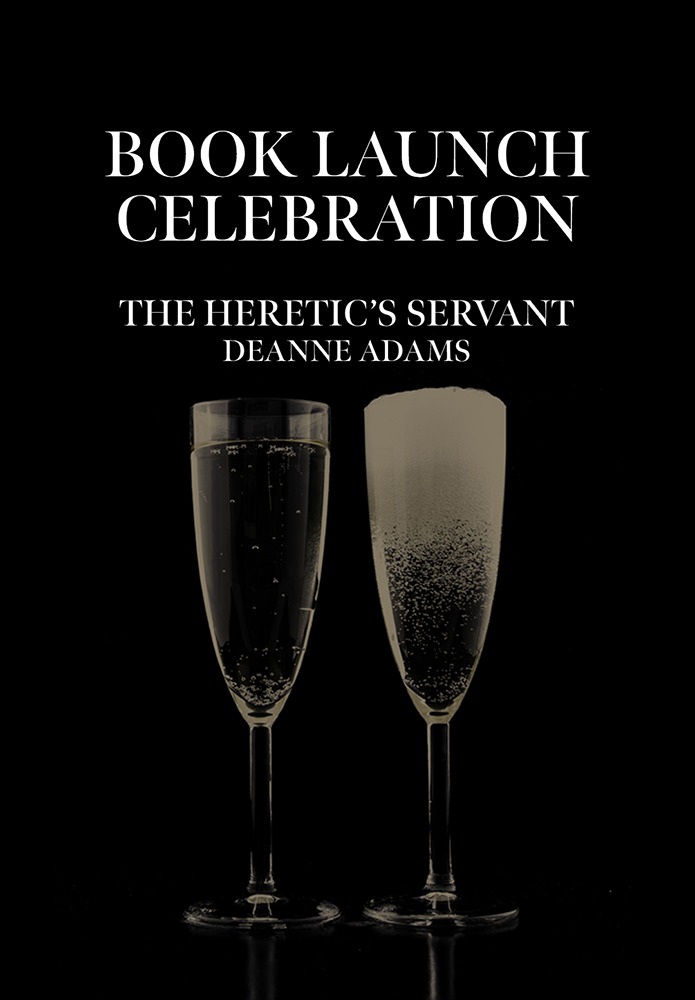 THURSDAY 15 DECEMBER 2022
from 8pm
Book Signing • Bridgend, South Wales, UK
Your chance to celebrate the launch of 'The Heretic's Servant', a historical thriller by Deanne Adams, in an intimate period setting.
Deanne will be discussing her newest release, as well as answering audience questions and signing copies of her book.
Enjoy drinks and grazing platter and get your hands on your very own signed hardback too.
Limited tickets £30.
General enquiries and press: info@deanneadams.com